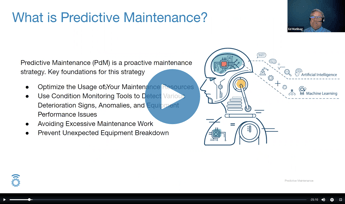 Watch the Live Demo Recording on KloudGin's Solution for Anomaly Detection and Predictive Asset Maintenance.
How IoT data and other analytical indicators like PM adherence can be collectively analyzed for early failure detection.
How Predictive Maintenance can help solve a number of Enterprise Asset Maintenance problems, and avoid unplanned downtime.
Other benefits of deploying Predictive Maintenance within KloudGin's EAM application, such as the extension of asset lifetime, the reduction of operation & repair costs, and safety improvement.